***Updated on the 20th March 2020***
D'Eynsford TMO is aware that looking after our residents has never been so important, and we'd like to assure our residents that we are working tirelessly to ensure our estate office remains open and are supporting residents as much as possible. Our colleagues are on-hand to provide a service during this challenging time.
As we are a frontline social housing service provider, it means that we regularly come into contact with many residents. Many of the residents within our estate are elderly or have illnesses/respiratory issues and therefore classified within the vulnerable category according to the Government / NHS guidelines.
Whilst we understand the importance of ensuring that service continues to be provided as best as possible, we also recognise the importance of ensuring that we consider the risks of spreading the virus and the importance of protecting and safe guarding our residents, as well as the staffing members (especially those in the vulnerable category).
This following action plan has taken into consideration the advice given by the Government, Public Health England, NHS and Southwark Council.
Changes to the way we are working
The TMO office will try and keep open as normal (Monday to Friday – 9am to 5pm).
You should report repairs that is an TMOs repair obligation by phone or email only.
To avoid all non-essential contact, please report all issues and tenancy matter by contacting its office line 020 7525 0745 or email TMO@deynsford.org. Please do not visit the office under any circumstances to avoid non-essential contact as advised by the Government.
Please report all council retained repairs function such as intercom, heating/hot water, communal extractor fan, communal lighting and pest contract to the council's main line on 020 7525 5000 as per normal
Due to lack of the resources currently available and to limit non-essential contact, we will be dealing with only emergency repairs (Leaks, Power Failure, Main Stack Blockages)
All our staff have been advised to wear masks and gloves when visiting properties as precaution in the interest of your safety as well as the staffs
Increase in cleaning (anti-bacterial) of hand rails and intercom on the estate and blocks
We will be postponing all resident meetings and social events until further notice
We will be asking prior to visiting any properties if you are self-isolating as we may have to take additional preventative measures
How you can help yourself
Wash your hands with soap and water often – do this for at least 20 seconds
Always wash your hands when you get home or into work
Use hand sanitiser gel if soap and water are not available
Cover your mouth and nose with a tissue or your sleeve (not your hands) when you cough or sneeze
Put used tissues in the bin immediately and wash your hands afterwards
Avoid close contact with people who have symptoms of coronavirus
Only travel on public transport if you need to
Work from home, if you can
Avoid social activities, such as going to pubs, restaurants, theatres and cinemas
Avoid events with large groups of people
Use phone (111), online services (nhs.uk), or apps to contact your GP surgery or other NHS services
If you need further assistance, whether you are vulnerable or simple in need then please contact the TMO on 020 7525 0745 or email TMO@deynsford.org.
We will be able to refer you to a local resident who is part of our 'Estate Champion Action Group' who maybe able to assist you. The 'Estate Champions' comprises of some amazing residents who live on the estate and want to help those in urgent need.
How you can help others
Whether they have run out of supplies, need something to be posted, need a prescription picked up or simply want a chat – you would be amazed as how a small act of kindness can be live saving.
Check on your neighbours who are elderly and vulnerable
If you have any concerns about someone then let the TMO know as we can check on them too
Want to do more to help others in need on our estate?
A WhatsApp group has been set by residents to coordinate help to those in need on our estate. If you would like join the then please add this QR code provided below or call the TMO on 020 7525 0745 to be added to the WhatsApp group.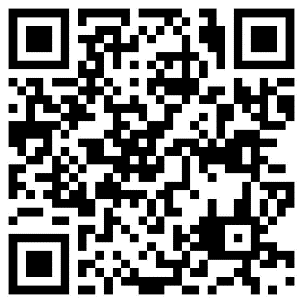 We'll be keeping you updated on the latest advice from Public Health England and any government decisions that may affect how we deliver our services. Be sure to follow our Twitter and check our website regularly for ongoing information. We will also provide you with further notice if the above action plan changes.
We would like to thank you for your continued support. The safety of our colleagues, residents and communities is our number one priority so let's all continue to keep ourselves safe and well.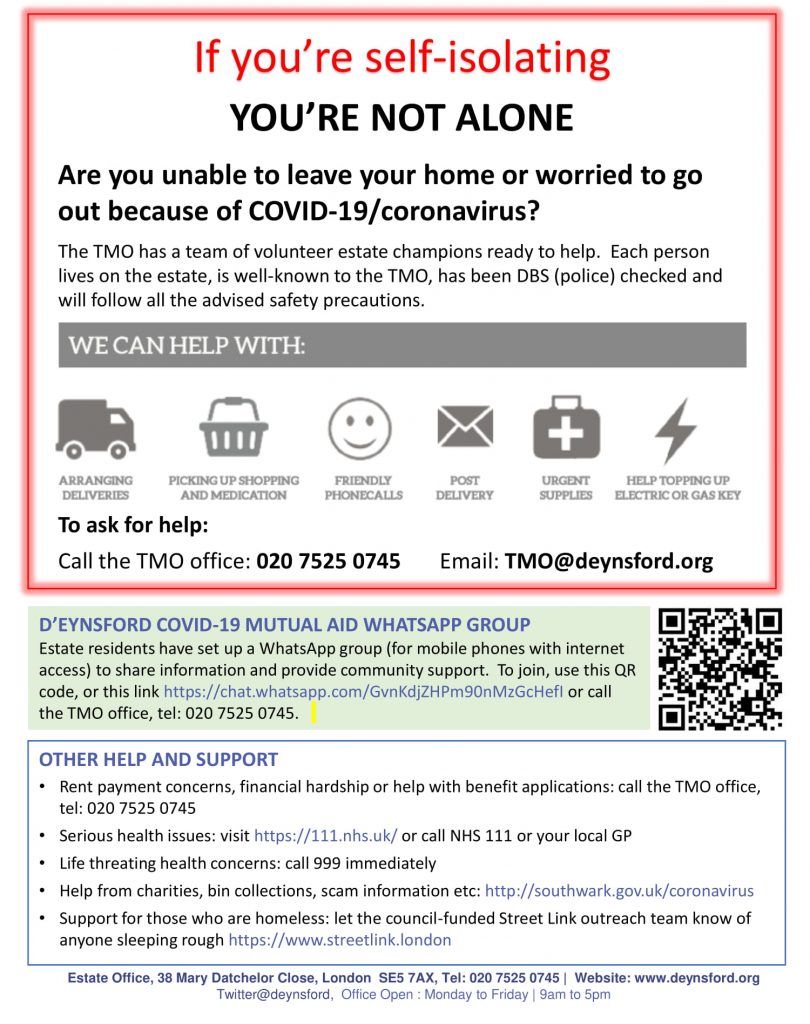 HOMESCHOOLING TIPS AND ADVICE
https://deynsford.org/wp-content/uploads/2020/04/LEARNING-RESOURCES-KEY-STAGE-1-1.pdf